Multi-Branch Graph Available for General Audiences
The power of version control comes alive when you can visualize your Git operations with the new multi-branch graph, available in 17.7 GA. In response to your feedback, we've delivered an improved graph experience. Track all the branches, commits, and merges that arise in your git workflows by viewing multiple branches at the same time.
Leveraging the Multi-branch Graph
Visualizing multiple branches empowers you to perform cross branch operations and makes it easy to understand the relationships between branches. In the past, you may have used tools like GitKraken, Sourcetree, or git log to visualize your repository history, but now, we've brought that rich graph into Visual Studio.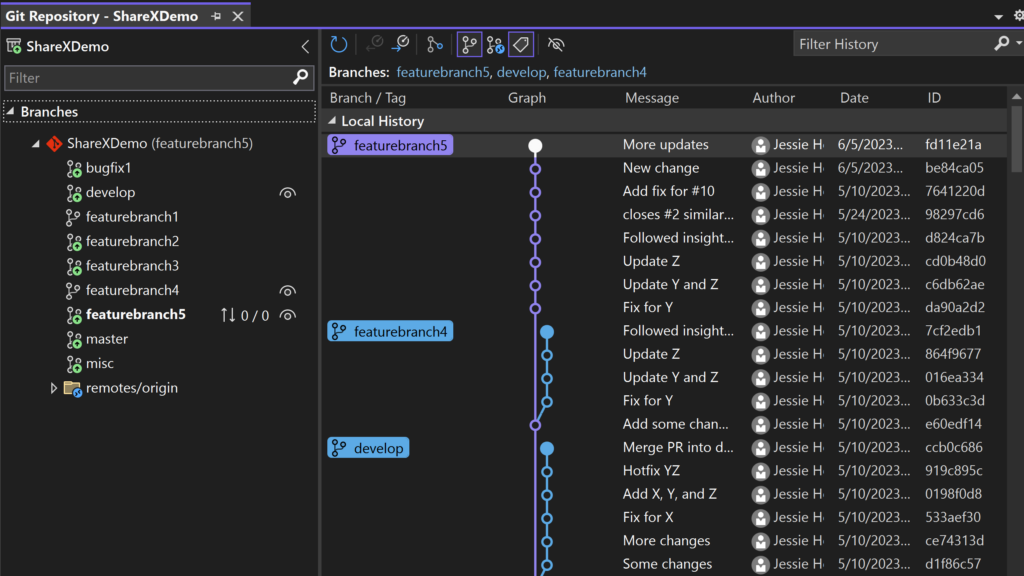 When you enter the Git Repository window (View > Git Repository), you can use the show/hide icon to toggle up to five branches in the graph. The branch labels and lines are now color-coded and stacked neatly, so it's easy to trace which branch each commit belongs to. The "Branches" links at the top shows which branches are currently in view and allows you to quickly navigate between them. If you want to clear all the branches, use the Cleared Toggled Branches in History icon to focus on your selected branch in the list.
The multi-branch graph is designed to help you with a variety of complex git scenarios, such as:
Managing multiple feature branches and keeping them up to date with the main branch
Exploring the repository's merge history and reviewing the changes made by other developers
Cherry picking previous commits from other branches

Right-click any commit on another branch and select "Cherry-pick" to add that commit to your currently checked out branch

Comparing specific commits across branches

Ctrl + select two commits across any two branches you have visualized and select "Compare Commits" to see a comparison window
Other Git Repository Window Improvements
In addition to improving the graph, we made a variety of UI improvements to the Git Repository window.
Track your incoming and outgoing commits on the currently checked out branch
See avatars for the authors in your Azure DevOps repos
See smoother graph rendering updates
Maximize your space by collapsing the branches panel or expanding your commit details.
Share your feedback
The multi-branch graph is the result of our collaboration with the community. We couldn't have delivered this feature without the feedback we received from you all in surveys, interviews, and user studies. Please let us know what you think by taking this quick survey.