PowerTip: Mini-Scripting Games 2014 Question 3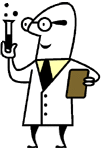 Dr Scripto
Summary: Here is the third short-answer question for Mini-Scripting Games 2014.

You are writing a script, and when it runs, you receive an error message that states:
"You cannot call a method on a null-valued expression."
What is the first thing you should check?
Answer to be posted next week!