Enabling Remote Learning with Office 365 Education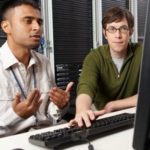 Developer
Dev Consultant Emmanuel Knafo recently helped a local school setup Office 365 to enable remote collaboration.  He shares his story and a walk through of that experience in this post.
---
In this post, I will go through the broad strokes of setting up Office 365 Education. As a useful prerequisite, I purchased a domain name for the school for 2 years and donated it to the school. This will allow the teachers and students to use usernames such as teacher@yourschool.education or student@yourschool.school instead of teacher@yourschool.onmicrosoft.com or student@yourschool.onmicrosoft.com.
The starting point is the Office 365 A1 trial sign up page.
Continue reading on Emmanuel's blog.