Tonight is the Virtual Launch Party @ PowerScripting Podcast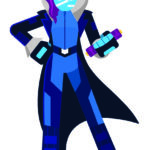 PowerShell Team
Tonight is the night! 
I was super happy when we shipped V1 of PowerShell.  It started the journey.  That said, V2 is the release that we really wanted to release. 
Today Windows 7 is publicly available and every version has PowerShell V2 in it. 
Tonight – we party!
I'll be cracking a beer with Hal Rottenberg and Jonathan Walz (hosts of the PowerScripting Podcast) in a PowerShell V2 Virtual Launch Party tonight at 9:30 PM EDT (GMT-4). 
For more details and info on how to join us go HERE.  I'm looking forward to seeing you.  Note, you can always watch the podcast after the fact but if you join, you can make comments and ask questions in the chat room – lots of fun.
Jeffrey Snover [MSFT]
Distinguished Engineer
Visit the Windows PowerShell Team blog at:    http://blogs.msdn.com/PowerShell
Visit the Windows PowerShell ScriptCenter at:  http://www.microsoft.com/technet/scriptcenter/hubs/msh.mspx