Gesticulating Ben Pearce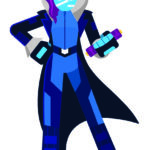 PowerShell Team
I gave a talk with Ben Pearce during IT Forum in Barcelona this year.  It was the first time I had ever given a talk with Ben as was shocked (and delighted) by his speaking style.  Ben is an awesome presenter.  Full Stop. 
That said, one of his presentation techniques is to use of very energetic, very large, very expressive arm movements.  No until you understand this, you might think that Ben was having an seizure on stage.  (If you watch the first talk you see Ben starting the talk with some wild movements and when it my part of the intro – I just sorta stared at him not knowing what to say.  🙂 )  Of course that didn't stop Ben  – he keep the waving up at a frantic clip.  It was the closest thing I've seen to a PowerShell interpretive dance.
During the PowerShell Community Dinner, we had a few drinks and got around to given Ben a hard time about this particular habit and nicknamed him, "Gesticulating Ben".  A few drinks later, I came up with the idea that during our next talk, we should figure out how to do a "YMCA" during the talk.  Now after quite a few drinks, this seemed like a really good idea.
Thanks to Jonathan Medd for taking the following photos at our session the next morning:
Ben is a great speaker – you should definitely go to any talk he gives!
Jeffrey Snover [MSFT]
Windows Management Partner Architect
Visit the Windows PowerShell Team blog at:    http://blogs.msdn.com/PowerShell
Visit the Windows PowerShell ScriptCenter at:  http://www.microsoft.com/technet/scriptcenter/hubs/msh.mspx