Wow, they really crammed a lot into those 410 transistors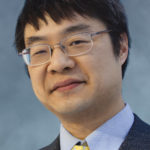 Raymond
A colleague of mine pointed out that in yesterday's Seattle Times, there was an article about Moore's Law. To illustrate the progress of technology, they included some highlights, including the following piece of trivia:
You can see the photo and caption in the online version of the article if you go to the slide show and look at photo number three.
This is an impressive feat. Intel managed to cram a Core 2 Duo into only an eighth as many transistors as the 6502.
On the other hand, it does help to explain why the chip has so few registers. There weren't any transistors left!