Begin Preparing for 2014 Winter Scripting Games Now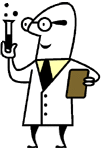 Dr Scripto
Summary: It is time to begin preparation for the Windows PowerShell 2014 Winter Scripting Games.
It's time to prepare for the 2014 Winter Scripting Games! We haven't had a Winter Games for a long time, but Dr. Scripto already has cabin fever and has been cranking out scenarios. To keep warm, we'll have you working in teams, instead of individually, for this set of events. To get prepared, download and carefully review the Players' Guide, so that you know what's ahead. You can even start using your social connections to find teammates in advance of the Games' starting pistol! We expect the Games to start in January or February, and we'll be running 3-4 complex, team-oriented events over 3-4 weeks. There's no Beginner track; we're expecting you all to work together to make it happen!
You can download the complete Players' Guide from the PowerShell.org website: 2014 Winter Scripting Games Players' Guide.
Ed Wilson, Microsoft Scripting Guy