Get your Smalltalk here
Glenn
Smalltalk is one of those gems of software development that until very recently (in the last 30 mins) I've never had the pleasure of experiencing. I've heard about it for years, everyone who's anyone in the OOP world seems to swear by it's simplicity, elegance, and beauty. I remember one of my bosses (If you're reading Joe this is you 😉 ) who was quite insistent about telling me whenever I showed him any of the new features in VS or .NET that 'I swear Smalltalk had that'.
Invented in the 70s originally for educational purposes, Smalltalk was truly revolutionary for it's time. Even today many of today's object oriented languages are still playing "catch up" with it's feature set. Just quoting one example, I remember how excited I was back in my J2EE days when I learned about this cool thing called Reflection (we also have it in .NET.) Well guess what, 30+ years ago Smalltalk had it 🙂 (now I sound like Joe)
Today as I was reading through my rss reader, I happened upon this great post by ScottGu where he discussed his Silverlight talk that he gave at TechEd. As I scrolled down the page I saw the title and image below….
Smalltalk Development Shell within the Browser using the DLR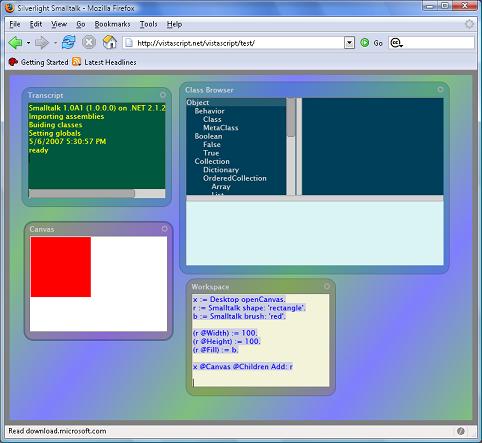 Yep believe it or not…it's in Silverlight and running on the DLR.
Guess I'll have no excuse not to learn it now 😉